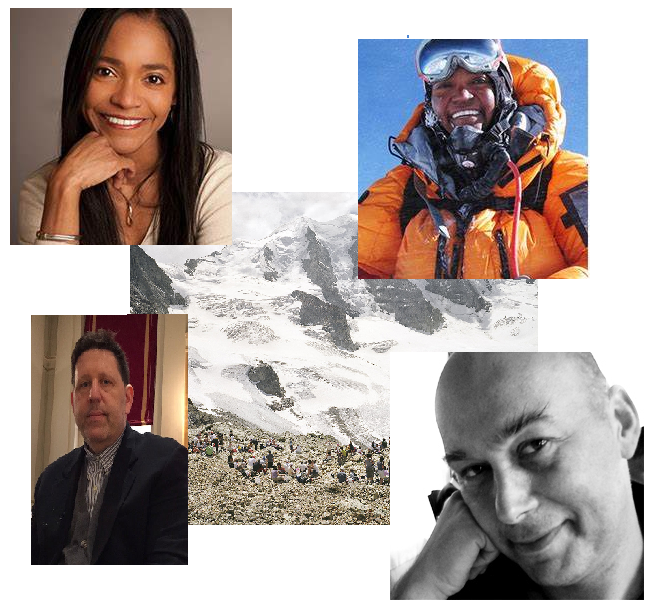 Fall Lecture Series: Mountains, A History and A Case Study
Join this panel conversation with Sophia Danenberg (AB '94), the first African American to climb Mount Everest; Edward Eigen (Senior Lecturer at Harvard on landscapes); and Michael Jakob (teacher of History and Theory of Landscape at hepia, Geneva)
About the panelists
Sophia Danenberg (AB '94) is an American mountain climber best known as the first African American and the first black woman to climb to the summit of Mount Everest, the world's tallest mountain. You can learn more about Sophia in her TEDx Talk.
-
Edward A. Eigen is Senior Lecturer in the History of Landscape and Architecture at the Harvard University Graduate School of Design. A proponent of the Montaignian essay tradition, his writings, while ultimately grounded in the uncertain terrain of "landscape," have ranged from questions of botanical and zoological systematics, the creation and loss of great and not so great museums and libraries, the history of the weather, and acts of plagiarism in the founding documents of architecture theory. All of these studies engage in questions of historical narrative and the species of evidence upon which it depends and/or invents along the way. You can read more about Ed here.
-
Michael Jakob teaches History and Theory of Landscape at hepia, Geneva, and aesthetics of design at HEAD, Geneva. He is a visiting professor at Politecnico di Milano and the Accademia di Architettura in Mendrisio. He is, at the same time, Professor of Comparative Literature (Chair) at Grenoble University. Jakob's teaching and research focus on landscape theory, aesthetics, the history of vertigo, contemporary theories of perception and the poetics of architecture. He is the founder and head of COMPAR(A)ISON, an International Journal of Comparative Literature and the chief editor of "di monte in monte", a series of books on mountain culture (Edizioni Tarara', Verbania). He produced several documentary films for TV and has a longstanding experience as a radio journalist. You can watch some of Michael's talks here.
Moderator: Michael Bervell (AB '19), President of the Harvard Club of Seattle
Date: Sunday, October 11, 2020
Time: Noon - 1:00 pm
Ticket Price: FREE! Attend via Zoom.
Questions? Please email Michael Bervell, President of the Harvard Club.
We will also be opening up this event to members of The Rainier Club and the Stanford Club of Washington.