Harvard vs. Yale: 138th Playing of The Game - Family Friendly Brunch and Viewing Party
For the 138th time, Harvard and Yale football go head to head in The Game.
Please join Yale, Harvard, and Radcliffe alums in-person for a family friendly brunch, viewing, and cheering at the 2022 edition of The Game played in Harvard Stadium! Organized by Harvard Club of Seattle.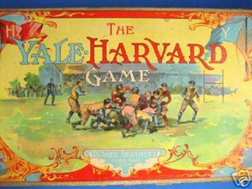 Saturday, November 19, 2022
8:30am - 12:00pm PT
Game starts at 9:00 AM
Registration ends Wednesday, November 16, 2022, 12:00pm
Hagerty's Sports Bar
Washington Athletic Club
1325 6th Ave
Seattle, WA 98101
https://g.page/thewacseattle?share
Cost: $35pp
Includes a full hot breakfast buffet brunch and coffee
No host cash bar
Children are welcome.
No walk-ins please.
Warm up your pipes for singing and cheering. Wear Crimson. GO HARVARD!
Questions: Kelly Charlton, CSS '82, President
---
Your membership supports our Mission!
Current Full-time Student Annual Membership price $0.00.
Most Recent Graduate Annual Membership price $0.00.
Recent Graduate Annual Membership price $25.00.
Individual Annual Membership price $50.00.
https://hcseattle.clubs.harvard.edu/memsub.html
We look forward to seeing you at future events!