Greenlight to Freedom Book Discussion with Co-Author Casey Lartigue, EdM
Please join us on Zoom for a conversation with Greenlight to Freedom co-author Casey Lartigue, Jr., EdM 1991 and hear the story of Songmi Han who escaped from North Korea in 2011.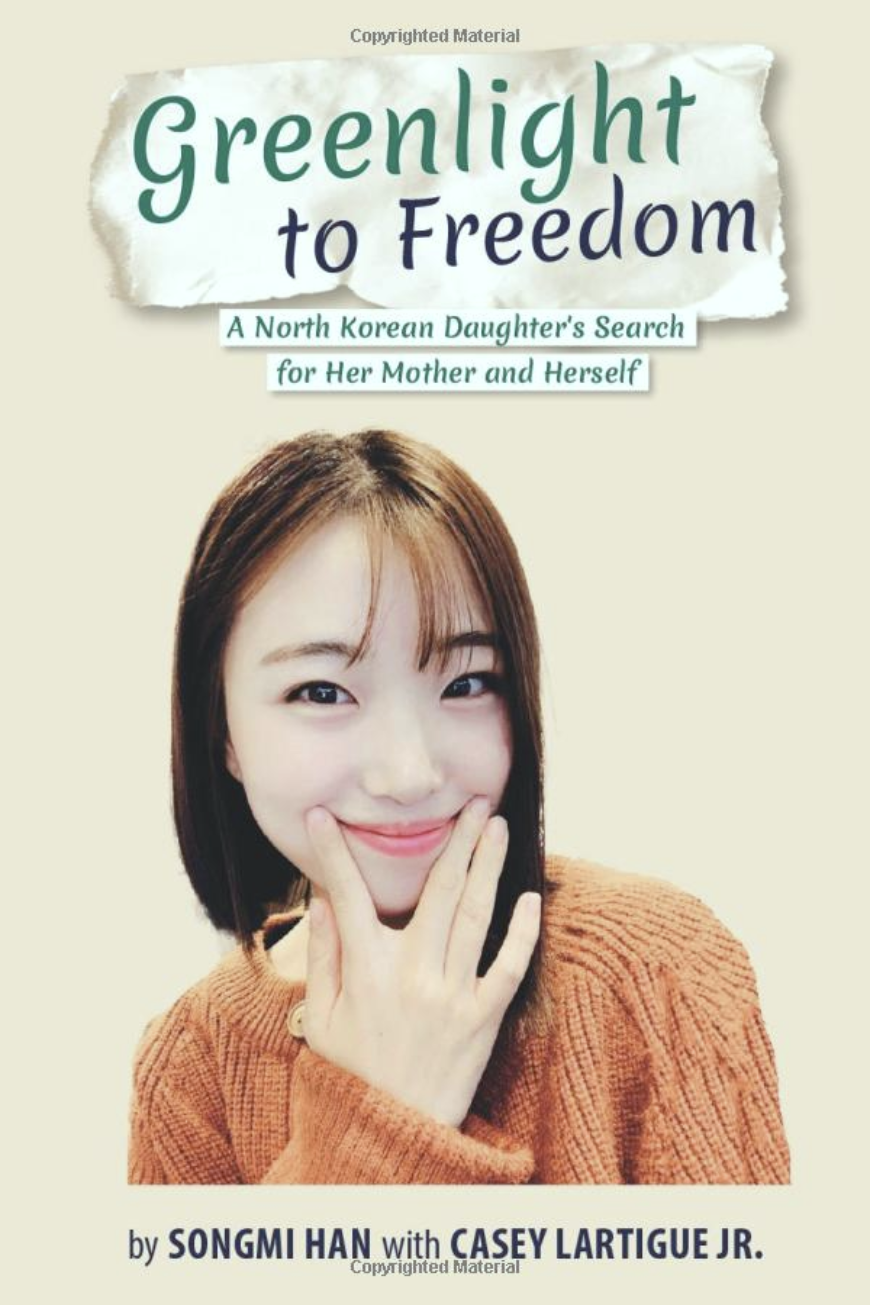 Greenlight to Freedom is the story of co-author Songmi Han who was born in Geum-ya gun, Bongsan-ri in the center of North Korea about 240 kilometers from the capital of Pyongyang. She escaped from North Korea in 2011, settling in South Korea later that year. She is now a college student studying social welfare at a university outside of Seoul, is a keynote speaker and a North Korean Refugee Fellow at Freedom Speakers International, and happy to be living in freedom. She is co-author of Greenlight to Freedom: A North Korean Daughter's Search for Her Mother and Herself, published in February 2022 by FSI Publishing.
Conversation with:
Casey Lartigue, Jr., ALB 1989, EdM 1991, Co-Author
The conversation will focus on Songmi Han's personal experience in North Korea, her escape, and her transition to living in South Korea since the workings of North Korean system was never explained to her and her family while living in North Korea.
Greenlight to Freedom: A North Korean Daughter's Search for Her Mother and Herself
Wednesday, May 3, 2023
6:00pm - 7:30pm Pacific Time
Virtual event on Zoom
Link will be sent the day of the event
Cost: Free to attend
We look forward to seeing you at our event!

Casey Lartigue, Jr., ALB, EdM, is the co-founder and co-president of the Seoul-based Freedom Speakers International (FSI) which he co-founded along with Eunkoo Lee in 2013. FSI has educated and empowered almost 500 North Korean refugees. Casey is the co-author of the book Greenlight to Freedom with North Korean refugee Songmi Han that tells her story. Casey has won numerous awards and honors, including from Hansarang Rural Cultural Foundation, Challenge Korea, Korea Hana Foundation, and last year he was awarded Seoul Honorary Citizenship by the Seoul City Government.
A North Korean refugee learns about Harvard
by Songmi Han
The Korea Times - September 17, 2022
https://www.koreatimes.co.kr/www/opinion/2022/09/137_336202.html
Greenlight to Freedom: A North Korean Daughter's Search for Her Mother and Herself
by Songmi Han, and Casey Lartigue, Jr., ALB 1989, EdM 1991
https://amazon.com/Greenlight-Freedom-Korean-Daughters-Herself/dp/B09TR8HFTM
Like much of the North Korean population, Songmi Han was living in desperate poverty. As a young child, she and her family lived a life of dire hardship, and many meals consisted of little more than grass. Domestic abuse, long hours of grueling physical labor, emotional abuse, and primal hunger were her constant companions. School was out of the question and she, along with her mother, had to steal food to survive. Greenlight to Freedom: A North Korean Daughter's Search for Her Mother and Herself, written by Songmi Han and Casey Lartigue Jr, is the perilous and gripping account of Songmi's childhood and her escape from North Korea.
As written in this book, "mindless patriotism can only last so long." Most people know that life in North Korea is difficult and that leaving the country is not an option. In this book, Songmi Han tells her story of growing up in this military state, and her words are nothing short of shocking and endearing at the same time. The descriptions of public executions, presumably intended for population control, are painful and distressing. According to Songmi, though, this was not the worst thing she endured in North Korea. The book is endearing because there is a strong emotive undertone. Relationships, psychological well-being, and self-reflection are also important themes in this read. The most poignant part of the book is the very last page. The book's cover may seem simple, but it is just perfect for this story.
The best part of the writing is the raw description of the events. Songmi recalls experiences from her childhood in vivid detail, both through the eyes of the child that she was and the woman she has become. The maltreatment she received by adults and the realization that North Korea was not the utopia that was described in her preschool class affected her young spirit profoundly. Additionally, I enjoyed the authors' tone. The writing itself was fluent and professionally edited, but I could still discern that the protagonist is a foreigner. This added an element of authenticity to the writing. At the end of the book, a very long list of acknowledgements further testifies to Songmi's deep gratitude for everyone who had helped her. I really liked this part, and I sincerely hope that all those people will one day read her words. What a wonderful tribute!
The descriptions described above really made it a life-changing experience. Because of this book, I have spent many hours researching the influence of totalitarian governments on the lives of their citizens because the story Songmi narrates is just remarkable. The four or five other stories I have read because of hers are just heartbreaking. As good books do, this one has really ignited a curiosity about the topic.
At one point in the book, Songmi wondered if anyone would want to read her story. This was surprising to read, as most people who will read this cannot fathom the depravity and oppression that many North Koreans must endure. All high school government, psychology, and history students should read this book. I also recommend it to readers who are interested in the plight of refugees and those who draw inspiration from reading about the trials of others. Every person who reads this story will learn something from Songmi's experiences. As noted in the book, you may have to read it twice to fully understand it; it's that powerful.
--From the Online Book Club, July 2022
I risked my life to ESCAPE from North Korea to eat 30 boiled eggs!!
Songmi Han interview by Yeonmi Park, both escapees from North Korea
YouTube about 1 hour 7 minutes
Songbun
https://en.wikipedia.org/wiki/Songbun
Songbun is the system of ascribed status used in North Korea. Based on the political, social, and economic background of one's direct ancestors as well as the behavior of their relatives, songbun is used to classify North Korean citizens into three primary castes, core, wavering, and hostile, in addition to approximately fifty sub-classifications, and determine whether an individual is trusted with responsibilities, is given opportunities within North Korea, or even receives adequate food. Songbun affects access to educational and employment opportunities and it particularly determines whether a person is eligible to join North Korea's ruling party, the Workers' Party of Korea.
Juche
https://en.wikipedia.org/wiki/Juche
Juche posits that a country will prosper once it has become self-reliant by achieving political, economic, and military independence. As Kim Jong-il emerged as Kim Il-sung's likely successor in the 1970s, loyalty to the leader was increasingly emphasized as an essential part of Juche, as expressed in the Ten Principles for the Establishment of a Monolithic Ideological System.
Songun
https://en.wikipedia.org/wiki/Songun
Songun is the "military-first" policy of North Korea, prioritizing the Korean People's Army in the affairs of state and allocation of resources. "Military-first" as a principle guides political and economic life in North Korea, with "military-first politics" dominating the political system; "a line of military-first economic construction" acting as an economic system; and "military-first ideology" serving as the guiding ideology.
History of Korea
https://en.wikipedia.org/wiki/History_of_Korea
Wikipedia has an interesting and detailed article about the history of Korea.
---
Your HCS membership supports our Mission!
Current Full-time Student Membership price is $0.00.
Most Recent Graduate Membership price is $0.00.
Recent Graduate Membership price is $25.00.
Individual Membership price is $50.00.
https://hcseattle.clubs.harvard.edu/memsub.html
We look forward to seeing you at future events!